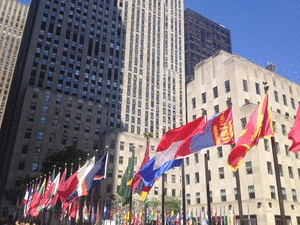 Farewell, NYC -
I'm off to Toronto for a few days.
Work trip that just happens
to coincide with the Toronto
International Film Festival?
(fingers crossed)
hoity-toity celeb sightings,
here we come!
Funny story about that....
Woke up this morning and said to DVC, "hey what are you up to tonight, wanna do something fun for dinner?" He looked at me quizzically, so I elaborated, "you know, because I'm going to Toronto tomorrow... [brow furrowing] and won't see you until late Saturday... [deeper furrowing] just thought it would be fun to do something special before I leave..." His confusion caught me off guard.
"But aren't you leaving for Toronto tonight, straight from work?"
"No silly, I leave on Wednesday."
"Yeah. Today is Wednesday, sweetheart."
Cue Home Alone style sudden realization: AAAAGGGGHHHHHHH!!!!!
Brief burst of tears due to overwhelming jumble of thoughts, quick recovery and rapid internal list-making, whipping out of the carry on and passport (thanks again DVC!), whirlwind pack job, standing at the door ready to go in an efficient 20 minutes. Perhaps my most efficient 20 minutes ever? (Getting the four Anderson rugrats to clean the entire house moments before their parents got home after an explosively fun babysitting bout probably tops the list.) A contender, at the very least.
Had a rocky time getting to the airport come 5pm, but that's a story for another day (who the heck attempts to hail a cab to the airport from midtown at rush hour?). Eventually made it, so all's well that ends well! Listening to the French rendition of "put mascara oxygen mask on yourself before assisting others" and about to get scolded for still having my electronic device on. Off we gooooo!