Some of the best views of the downtown skyline can be seen from Brooklyn Bridge Park, just across the East River from lower Manhattan. Lots of fun ways to get there: you can walk across the iconic bridge (above the cars!), take the ferry from Battery Park, ride the subway under the river and then make your way back across the water, you can even bike over the bridge if you're feeling like participating in some extreme pedestrian dodging. Hoping to run into JayZ and be invited along somewhere fabulous ('natch), we opted for the subway.
The first subway stop in Brooklyn lets you out in the middle of Brooklyn Heights, a neighborhood so adorable it looks like a movie set. It's quaint and clean and well-maintained. There's an abundance of cute stoops people pleasantly gathered on them. And it's just a few minutes walk back toward the water where there are lovely parks that seem to stretch along the entire shoreline.
Pretzel from a park cart. A must.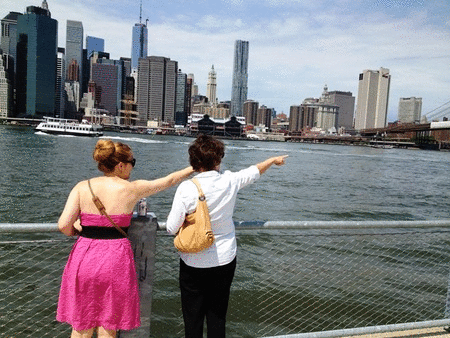 Just for the taste of it!!!
I love going to Brooklyn Bridge Park. It's incredibly beautiful and spread out enough that even when crowded it doesn't feel overly claustrophobic. They've done a fantastic job of turning old shipyards and loading docks into family friendly parks and recreation areas. And New Yorkers looove their greenspace, so these areas are in constant use.
Ready, set: cutesy couple photo shoot!
Hmmm. Not quite.
Instead of walking back across the bridge toward Manhattan, we decided to take the East River Ferry up to 34th Street and walk from there. It's only 4 bucks and it's actually quite fun - there's open air seating on the upper level of the ferry and you receive a fun little tour of the river ports of Brooklyn. "It's kind of a ride."
Pretty views of Jane's Carousel in DUMBO (District Under Manhattan Bridge Overpass).