Returned to Monterosso after a morning of walking around the other towns to do some final exploring of our home digs.We walked over to the newer side of town again and decided to hike up into the hills surrounding the main town area. The densely packed houses are lined with ivy-covered stone walls and connected by mini bridges overhead. Unsure of our final destination, we just continued to head up up up, hopeful of an unknown vista ahead.
At one piont, we found a small stone path leading away between two homes, partially obscured by overhanging branches. The path wound it's way up the hill through beautiful villas and vineyards, allowing us to catch a glimpse into the amazingly landscaped backyards. I wonder what type of people actually live in these remote locations year round.
Almost to the top!
Made it!!
From the peak, we could look down on the rooftops of the entire town and see the boats int he harbor far below. We spotted a set of stairs cut into the mountainside, so we began the steep descent to a lookout point closer to the harbor below. Continuing along the the trail as it extended out to the point, we could look back at the entire bay (and see all 5 villages lining the coast!).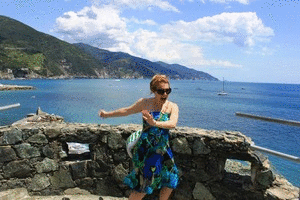 Spotted a bunch of kids at what looked like summer sailing camp. Awesome.
These people. Double awesome.
Pit stop at the train station bathroom. Opposite of awesome.
Farewell Cinque Terre!