One of the things I really wanted to show DVC in Munich was the
Olympic Park
, home of the 1972 Olympics. It's a beautiful complex with lakes, billions of intertwining walking paths, several spots to stop and get a snack, awesomely weird architecture and a big tower you can go up inside of to view the whole city. It's a fun spot just walk around. You can take the subway there, but we hohught it would be more fun to ride bikes across the city. Luckily, Leigh and Daniel had an extra set of bikes for us to borrow.
First, Anna Banana showed up to say hello. Surprise!
Quick dance party.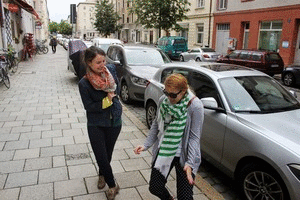 Quick stop at the Chinesischer Turm for some Iron Man style fighting, natch.
Then back on the road.
Almost there!
Note the insane thunder clouds above the Tollwood Festival in the background...
Yeah, those burst on us in a torrential downpour about four minutes after this photo was taken.
Finally made it!
Always a blast with Anna Banana.